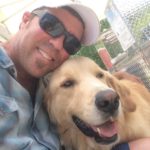 Thank you Ann and staff at Riversong. You help me through one of the toughest days of my life. I appreciate your kind, loving hearts that handled everything for Hops with such dignity and grace. You are a gift to our community!
-R. Hanes Hoffman Jr., Cedar Mountain (via Google reviews)
My hound dog Miles was stepped on by his Momma when he was just a little fellow, and as a result he could not walk when he was 5 weeks old.  He just sat in his basket whimpering and could barely eat or sleep.  Another vet put him on prednisone.   That was just not doing the job, so I took him to Riversong Veterinary Clinic for a second opinion.
Dr. Holshouser gave him a 10 minute treatment of acupuncture, which put him right to sleep, and some homeopathic remedies for the swelling and pain.  Within an hour after the first session, he was walking and eating.  He had no side effects at all.  He had one additional acupuncture treatment a few days later and he was good to go!
He is all grown up now and weighs 95 lbs.  He is a hunting dog and he runs hard and plays with his sister every day.
Thank you so very much Dr. Holshouser, for saving my dog and helping him walk.
-Robert Bass
Penrose, NC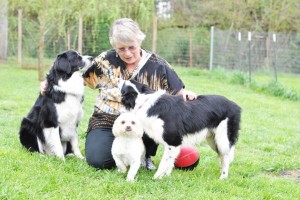 I first consulted with Dr. Ann with a troubled and reactive, young Border collie we had adopted and had in a lengthy rehabilitation program.  She was the first person who was able to approach him without a negative reaction! I most appreciate, however, the way she tunes in to a dog, where it is clear to me, that her entire being is engaged in listening and feeling the dog, both heart and intellect present; the most important ingredient in the healing profession!
In full confidence I refer all my dog customers to Riversong Veterinary Clinic knowing that owner and dog will be treated with the greatest respect and care from both Dr. Ann and her wonderful staff!
      – H. D. Darcey/Spring Valley Farm Dog Care/PisgahForest, NC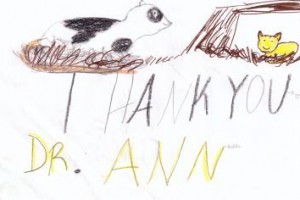 Sometimes pictures are more powerful than words. This card was sent from the students at Mountain Sun Community School after their classroom pet, Piglet, was treated by Dr. Ann.
We were greeted at the clinic with warmth and compassion and were put at ease immediately by Dr. Ann. She was gentle with not only Spencer but with me and my husband as well!
That first acupuncture treatment exceeded our expectations. Spencer was noticeably more comfortable immediately following it and within weeks, regained full mobility. Spencer is now 13 ½ and doing wonderfully well. We continue to visit Dr. Ann every three to four weeks and she, along with Heather and Toby provide Spencer with a caring environment in which to maintain optimum health. Thank you Dr Ann!!
  – C. Glawson   
We truly appreciate the professional, yet compassionate way you and your staff handled our situation. With sincere regards, The P. Family
I first met Dr. Ann in the community and then as her practice evolved into holistic medicine, she began to help my elderly Black Labrador Retriever, Aravis, who was a beloved family pet. Aravis had damaged a back leg that needed surgery which would cost us around $1,500 and did not guarantee a healthy animal. We decided not to pursue the surgery for our elderly dog and thought we had no other alternatives. Then Dr. Ann stepped in and offered her acupuncture treatment for Aravis. The results were immediate and oustanding. Not only did she gain full mobility in the leg, she enjoyed a wonderful quality of life for the next 4 years. I am proud to say that Aravis was her first alternative "patient" in Brevard. I highly recommend using acupuncture and herbs for your animals not as a "last resort" method but as a way of life to keep your animals healthy. We now take our 2-year old Great Pyrenees, Strider, and our 10 month lab and hound mix, Corin, to Dr. Ann for all of their vet needs.
 – J. Lefler