We have provided some of the most commonly asked questions below for your convenience. If you still have some additional questions, please contact us.
About Us
What is an integrative practice?
Being an integrative practice means that we incorporate both conventional and alternative treatment options to create the best treatment plan for your pet. Alternative treatment options may include acupuncture, Chinese herbal medicine, and homeopathic remedies.
Our Services
Do you have a separate entrance for cats?
While our entrance is shared by cats and dogs, we do have a feline-only exam room. Your cat will enjoy the large window and the quiet, dog-free space.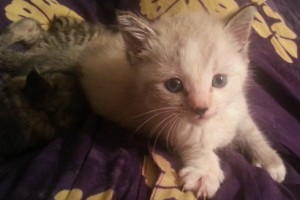 Do you offer alternatives to vaccines?
We currently offer titer tests for canine Distemper and Parvo which we run here at the clinic. This simple blood test measures the level of antibodies in your dogs' body and can tell us if your pet needs to be vaccinated or not.
We think it's important to consider each pet's lifestyle and individual needs when it comes to vaccines. We're always happy to discuss your pets' needs during their visit!
Are you open for emergencies?
Riversong is open from 8:30am – 5:30pm Monday through Friday and is closed for most holidays. We are primarily an out-patient clinic and often recommend taking emergency cases to one of our local Emergency Clinics. If you experience an emergency with your pet during business hours, please give us a call. If it is after hours, please contact WCRAH or REACH directly.
Do you offer Home Visits?
Home visits are handled on a case-by-case basis. If you are interested in a home visit, please call the clinic for more information.
Can I bring more than one pet at a time?
Yes! Once your pets are established with us, we even offer a discount for multi-pet wellness visits. We do, however, ask that no more than 3 pets be seen for wellness visits at the same time. We find that when there are more than 3 pets in the room, it can be difficult to focus on the needs of each pet.
Costs & Payment
How much is an office visit?
Our exams start at $51 and can vary depending on how much time is spent with the doctor and/or treatment options that are recommended for your pet. We are always happy to provide an estimate for services.