Ann Holshouser, DVM, CVA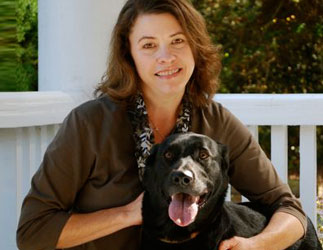 Dr. Ann Holshouser has 20 years of experience in veterinary medicine. A graduate of Clemson University and the University of Georgia College of Veterinary Medicine, she has worked in both large and small animal medicine throughout her career. She is also a graduate of the Professional Course in Veterinary Homeopathy and the highly respected Chi Institute's Veterinary Acupuncture Course in Reddick, Florida. Dr. Ann, as she's known, has lived in Brevard for 8 years, and she is the owner of Riversong Veterinary Clinic in downtown Brevard. As a consulting veterinarian for Friends for Life Forever Farm, a non-profit rescue organization, since 2007 she has aided in the health of countless elderly, abused, and special needs companion pets. Dr. Ann is also a member of the American Veterinary Medical Association (AVMA) and the Association of Holistic Veterinary Medical Association (AHVMA).
In addition to all she does at Riversong, Dr. Ann enjoys raising two children with her husband Nick, trail running, and listening to live, local music.
Renee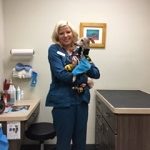 Renee is a graduate of the University of North Carolina at Asheville with a Bachelor's degree in Sociology, and also graduated from AB Tech's Veterinary Technology Program and went on to become a registered technician. Renee joined Riversong in July 2014 and is an essential team member involved in many aspects of procedures, patient care, labwork, and client education. At home, Renee has an Italian greyhound named "Sandy" who loves to go running, and two cats, "Smokey" and "Tate."
Kristen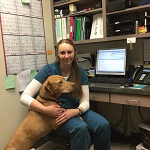 A native of Brevard, Kristen spent some time in other parts of the state before returning to Transylvania County and joining Riversong as the office manager in December 2015. In the past she worked primarily with large animals, until 2012 when she began working in a small animal clinic setting. Kristen is passionate about providing quality care for both patients and clients at Riversong. At home, she stays busy with her two active rescue dogs, "Tess" and "Eamon", cat "Branna", turtle "Chilly", and a small herd of New Zealand, Californian, and Champagne d'Argent rabbits.
Phyllis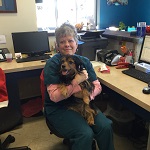 Phyllis relocated to WNC from Myrtle Beach in 2010, and joined Riversong as a receptionist in August 2016. With a strong background in customer service, Phyllis makes sure that our patients and clients are well cared for by assisting clients on the phone, scheduling appointments, and handling medical records. Phyllis has four adult children, and is happily married to her husband, Don. Phyllis and Don enjoy spending time with their adorable Dachshund/Yorkie mix, "Maggie Mae", as well as reading, watching movies, and gardening.