Recently, we have had a number of questions about the safety of Trifexis, an oral flea and heartworm prevention for canines. To date, there have been no pet deaths or safety risks definitively linked to the use of Trifexis.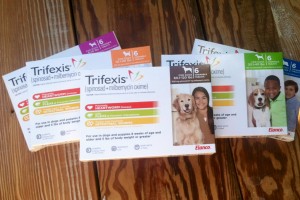 While there have been social media and news broadcasts raising concerns about Trifexis, there has not been any factual evidence against the safety of Trifexis. As with any medication, there is a balance of benefit and risk. Trifexis is a prescription-only product that is typically recommended for healthy dogs without a history of seizures or heartworm disease. As with most medications, it's not suitable for every single dog. Unfortunately, a number of the cases that are being linked to Trifexis are instances where the pet had major underlying health concerns as well as cases where the medication was not administered as prescribed.
We live in an age where poorly-researched news travels fast. The two primary components of Trifexis, spinosad and milbemycin have both been used and established as effective, safe medications when they are administered as recommended to healthy pets. To date, there has not been any information from the FDA, Elanco, the American Veterinary Medical Association, or the American Holistic Veterinary Medical Association advising against the use of Trifexis.
As always, Riversong will be watching for new information and will do our best to share the most up-to-date developments. We will be posting new information via our website at www.riversongvet.com/news. You can also call the office at  (828) 862-8450 to address your pet's specific needs.